Demand for home improvements has been growing for a number of years now, but one product that seems to have suddenly appeared everywhere and become hugely popular within the home improvements market is the elegant and beautiful Bi-folding Door.
Bi-folding doors are a flexible and modern choice for homeowners, they allow you to make the most of the connection between your home and your garden. Made up of multiple door sections, bi-folding doors can occupy a wide range of opening sizes and spaces. These sections fold to one side in a simple space saving motion, revealing the full width of an opening effortlessly, which provides an eye-pleasing and practical effect.
When a Bi-folding door is opened, you get a full span view of your garden, decking, patio and whatever is beyond your garden. It's easy to see why bi-folding doors are so popular in the modern day. There are many reasons that homeowners choose Bi-folding doors for their home besides their good lucks and practical functionality. Below we explore some of the other benefits that come with a brand-new Bi-folding door.
A Seamless Transition – Bi-folding Doors create a seamless transition between your home and your garden and allow natural light to flood into your property. They are a real asset during the summer months when temperatures are at their highest. You can use Bi-folding Doors to create an opening within your home that doesn't look out of place and allows plenty of fresh air to get into your home so it doesn't become too hot and humid.
Stunning Looks – Bi-folding doors are easily one of the most aesthetically pleasing doors available. They are a thing of beauty and you will find yourself gazing through them on a daily basis. They will transform the look of your home, giving it a fresh, modern look that no other door could give you.
They improve the value of your home – Bi-folding doors are not only beautiful, modern and useful, they also add value and appeal to your property. They are an investment, with all the latest accreditations they add an extra dimension to your home and improve security, which will raise the overall value of your property. In a few years down the line, if you decide to move, they are very appealing and eye-catching to new buyers, especially when compared to an old or standard door.
Low Maintenance – uPVC and Aluminium are both maintenance-free materials that only require the occasional clean. Therefore, it's one less chore for you to do. You don't have to worry about repainting them or long-term effects such as decaying or breaking down because of the weather. Bi-folding Doors are strong, sturdy and hassle-free.
They are compact – Bi-folding Doors take up very little space when opened. That's because they fold back on themselves, rather than sliding behind another window. This is ideal for homeowners who want to make the most of the space they have available. The last thing you want is a beautiful door that gets in the way when it is opened. Bi-folding doors are designed to take up the least amount a space possible when opened so you can create a beautiful opening without compromising your own personal space.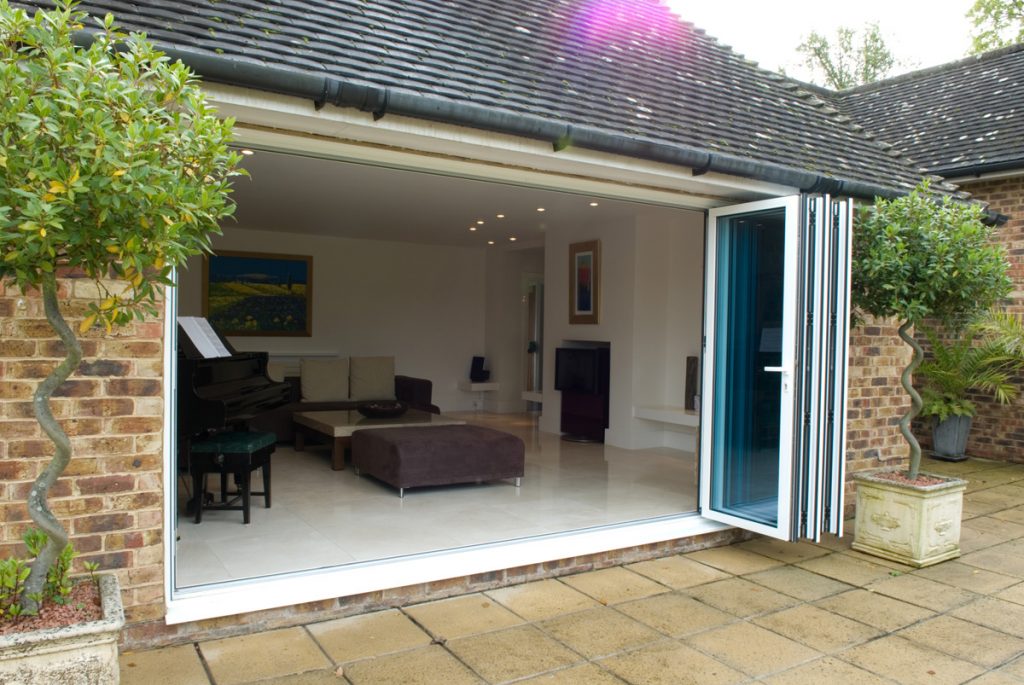 Countrywide Windows are experts in the supply and installation of Bi-folding doors throughout Bridgwater, Somerset and beyond. Improve the looks, value and security of your property with a Bi-folding door today. With a variety of styles available for both modern and more traditional properties, find your perfect door today.