Replacing your old front door with a new one has several benefits, as well as ticking a much-needed item off of your DIY list.
A new front door can literally change the whole look of your home and how it is perceived from the outside. It is often one of those jobs that is spoken about within households but never actually gets done. People are often put off by large price tags that some companies charge to make a quick buck and therefore the job gets put to the back of the mind and is forgotten.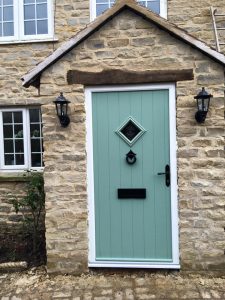 At Countrywide Windows, you will receive a personal and friendly approach that you should expect from a locally based company. We take pride in our work and always ensure that we spend time and thought in every project that we carry out – so that you end up with a service and door that meets and exceeds your expectations.
So why should you get a New Front Door?
Security
A new front door comes with all the latest security accreditations and technology to ensure your home is the safest it can be. An old front door can pose a serious security threat to your property. Technology has advanced significantly over the years which could leave your front door vulnerable and to be seen as a potential weakness in your home, especially if it is considerably aged. A new front door will put your mind at ease and keep your home secure and safe.
Appeal and Value
A new front door will increase the appeal of your house which could be vital later on in life when you decide to move to a new property. Even if you aren't thinking about moving, a new door will give your home a lift and make it look modern, up-to-date and beautiful whilst improving security. A new front door can transform the look of your house from the outside and the inside, for a low cost, minimal effort and a short amount of time when compared to popular housing renovations. It will also improve the value of your house if there ever comes a time when you decide to sell.
Save Money on Your Energy Bills
As mentioned previously technology has most likely advanced an awful lot since your front door was originally installed, meaning you could be missing out on a variety of benefits. One huge benefit of getting a new front door is the fact that you can save money on your energy bills thanks to energy efficient doors. If you replace your old front door with something newer, and more energy efficient you will save money on heating bills, cut out cold and irritating drafts and help your home become more efficient. This means eventually your new front door will pay for itself by saving you money on your bills.
Countrywide Windows are experts in the supply and installation of Front Doors throughout Bridgwater, Somerset and beyond. Improve the looks, value and security of your property with a new Front Door. With a variety of styles available for both modern and more traditional properties, we can help you find your perfect Front Door today.